All clubs will run for 12 weeks this term, starting the week commencing 6th September 2021 and finishing the week commencing 29th November 2021. 
Sign-up on School Money from 1st September 2021.

We are running Early Birds Club before school and Double Club after school every day.
Early Birds starts at 8am until the start of school and Double Club starts at the end of the school day until 6pm. 
If you would like more information please contact the school office.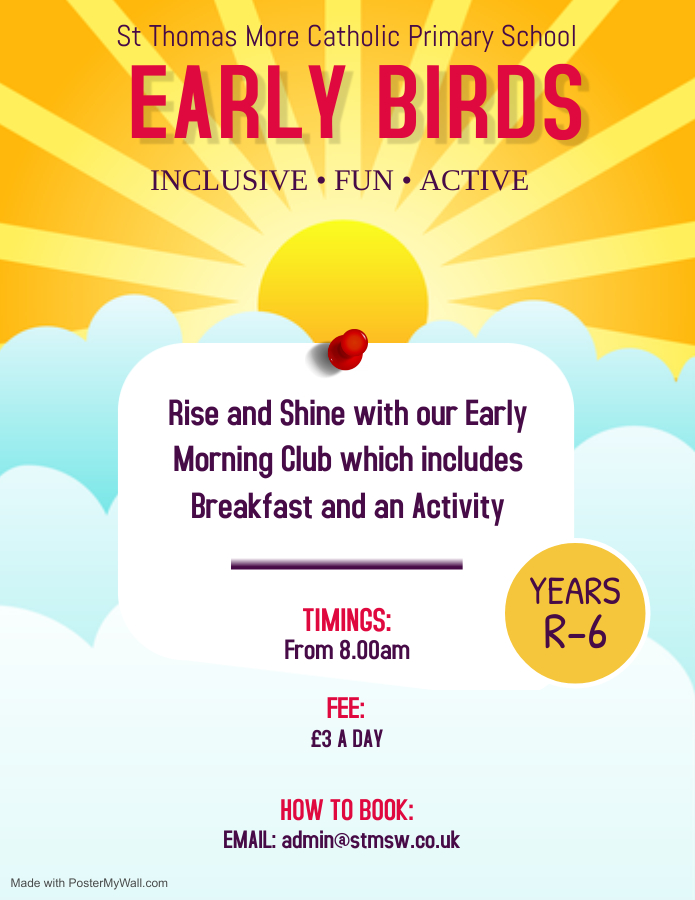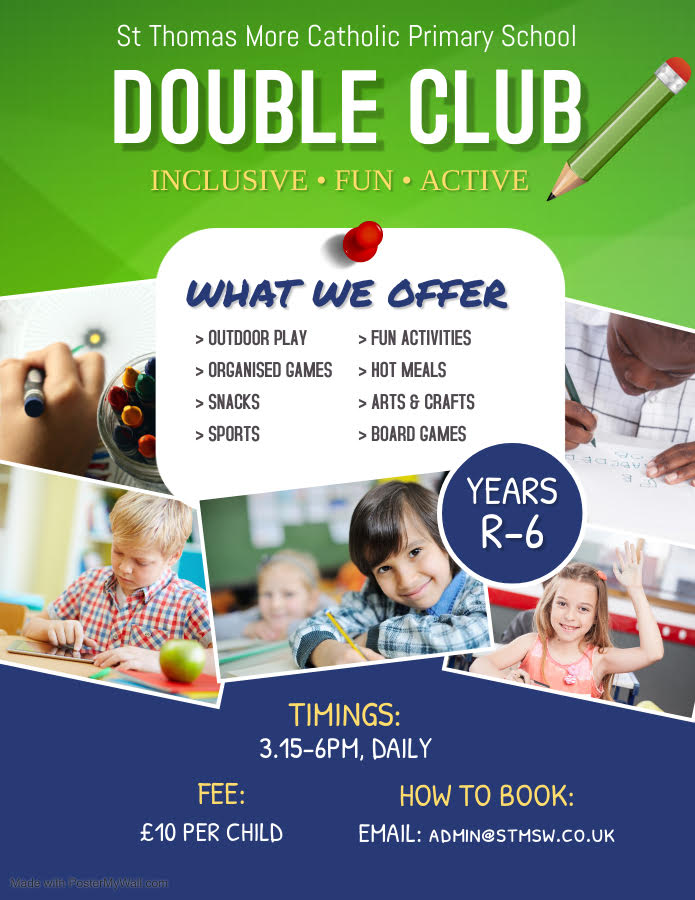 Morning Clubs (£24 per club for the term) 
Day

Activity

Classes

Leader

Start/Finish

Monday
Basketball
Juniors
Mr Hall

6th Sept

29th Nov

Tuesday
Dodgeball
Juniors
Mrs Head

7th Sept

30th Nov

Wednesday

Archery

Juniors  

Mrs Head

Mrs Fisher

8th Sept

1st Dec

Thursday

Gymnastics

Juniors
Mrs Riches

9th Sept

2nd Dec

Friday

Kwik Sticks Hockey
Juniors
Mr Hall

10th Sept

3rd Dec

Lunch Time Clubs (Free)
Day

Activity

Classes

Leader

Start/Finish

Monday

Choir

Juniors

Mrs Lesslie

6th Sept

29th Nov

Tuesday

Orchestra /Band

Juniors

Mrs Lesslie

7th Sept

30th Nov

Friday

Chess

Juniors

Mr Duers

10th Sept

3rd Dec
After School Clubs (£24 per club for the term)
Day

Activity

Classes

Leader

Start/Finish

Monday
Football
3 & 4

Premier Sport

6th Sept

29th Nov

Craft Club
3, 4, 5 & 6

Mrs Dorren

Mrs Bird

Spanish
5 & 6

Mrs Sherwin

Tuesday

Tag Rugby

5 & 6  

Mr Duers

7th Sept

30th Nov

Mini Football

1 & 2

Mrs Williams

Music

3, 4, 5 & 6

Mrs Lesslie

Wednesday

Infant Art

1 & 2  

Mrs Heath

Mrs Vallely

8th Sept

1st Dec

Netball

3 & 4

5 & 6

Mrs Cinque

Mrs Head

Homework Club

3 & 4

Mrs Hall

Homework Club

5 & 6

Mrs McNally

Thursday

Football  

5 & 6

Premier Sport



9th Sept

2nd Dec

Cross Country

3, 4, 5 & 6

Mrs Edgar

Mrs Bissett

Debating

4, 5 & 6

Miss Hall

Multiskills

1 & 2

Mrs Trevelyan

Friday

Tag Rugby

3 & 4  

Mr Duers

10th Sept

3rd Dec

Hockey

5 & 6

Mr & Mrs Hall

Phonics

1 & 2

Miss Vinter